Viron and the Fortune 500
I was dropping off a visitor at Tokyo station on Saturday a bit before lunch time. I walked over to Yurakucho via the International Forum, and rummaged through the Muji Flagship store. It's become almost daily for me, which scares me only sometimes.
Anyway, as lunch approached, I decided that I wanted to eat lunch in Marunouchi at either one of two places. Out of character, I called my roommate to come on over for lunch.
One place I had in mind was
Benugo
. It's a British sandwich store that has opened up a place in the Meidi-ya in Marubiru (they also have stores in Ebisu and Akasaka). It is quite good for a sandwich, and reasonable compared to london (600 yen for a sandwich)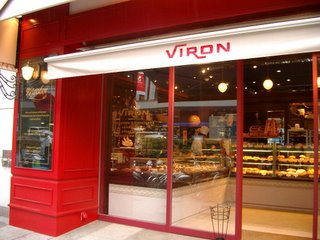 But there was one other place in my new office building called Viron. It's supposedly uses french flour (Viron) in its products. I must admit it was all quite good. They had a vegetable sandwich (a rarity here) and they have a great crisp bread embeded with either tomatoes, olives, or gruyere cheese.
According to Fortune 500 Mitsubishi Electric is the no.8 company in Electronics, (although whether that's a category we fit under is arguable) beating out Matsushita suprisingly. Sony and Sharp are the only other Japanese companies ahead of us. Sharp is by far the largest producer of PV, and I wish I could have worked for them. But alas, they are based in Osaka, and their Kanto branch is in Chiba, and I have no desire to work in Chiba.
Read the whole post.